Circa Survive T Shirt Bundle
If I had that kind of money (unfortunately, a bit high in my opinion), I'd buy this bundle in a heart beat. One of my favorite bands printing limited edition T Shirts that feature all of their album art (not to mention the fact that they are all painted by one of my favorite artists, the talented Esao Andrews). Any fan of the band would definitely enjoy seeing these rolled up in their stocking…err stockings? It's seven shirts so I'm not too sure how'd that work.
-Steve
Apple Recording Bundle from Guitar Center.
If I remember correctly, Guitar Center has this special every Christmas because it sells well. And it makes sense. For any home recording enthusiasts, this may be a perfect start. And for what all you get, the price tag isn't too shabby either.
-Steve
The Beatles Stereo Remaster
I shouldn't really have to explain why you should own at least one record by The Beatles on wax, they're the Fab Four for god's sake! If you don't it's a bit embarrassing, but don't worry these stereo remasters are here just in time for you to add to your collection. The remastering job adds a timeless quality to an already timeless group. The collection consists of thirteen records, however if you're as broke as me and you don't have the money to purchase the box set then you can easily purchase the LPs individually. So take your pick, whether you're looking for innovative 60s pop (Revolver, Rubber Sould) or psych-pop that pushed the boundaries of music  recording (Sgt.Pepper's Lonely Hearts Club Band, Magical Mystery Tour), there's an album for you. Irrational cynics need not apply.
-Sebastian
"We Got Power!: Hardcore Punk Scenes from 1980s Southern California" by David Markey and Jordan Schwartz
This 300 page hardcover book recounts LA hardcore and punk back in its Golden Age. Reprints from the fanzine and essays by Henry Rollins, Keith Morris,Tony Adolescent and many more make this a must have for your friends with bad Black Flag tattoos or insist on the "good old days" wardrobe.
-Sammi
Audio Technica AT-LP60 Fully Automatic Turntable
I've been needing a new turntable for a while now. When I finally decided to get into collecting vinyl (specifically newer releases), I started out with a cheapy Ion Quickplay turntable I picked up on clearance from K-Mart for $25. It wasn't anything special; just a simple belt-driven turntable that was fine for starting out a collection. However, with almost forty records now, I knew the time had come to upgrade in some way. And I think I've found that upgrade in the Audio Technica AT-LP60 Fully Automatic Turntable, an $80 belt-driven turntable that has everything you could ever want without hitting your wallet hard. It plays at both 33 and 45 speed, it's the best selling turntable currently on Amazon, and better yet, it's built to last. Here's to future listens on a solid record player.
– Landon
Scott Pilgrim: Complete Box Set
Ever since I saw the movie adaptation of Scott Pilgrim, the popular series of graphic novels, just two years ago, I was floored. Never before had I seen a movie with such gusto and visceral creativity. I knew then and there that I would immediately have to read into the six-part epic that is the Scott Pilgrim series. After borrowing the boxset from a friend in my hometown, I started reading and was instantly hooked. The pieces started to come together, subplots that were cut were beginning to be explored. Even though I only had the chance to read two and a half of the six book, I wanted to be able to have the set at my disposal at all times. For those that haven't explored either the film or the box set of novels, I highly recommend checking them out.
-Landon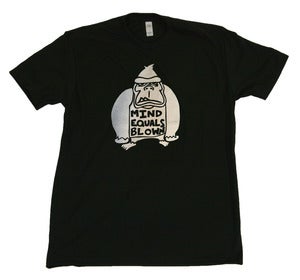 Mind Equals Blown Shirt
Obviously, this is what you need this holiday season – a brand new Mind Equals Blown tee shirt! Tanks are also available. Pick up an awesome new MEB shirt today!