10. The Civil Wars – Barton Hollow
9. M83 – Hurry Up, We're Dreaming
8. Cults – Cults
7. The Story So Far – Under Soil and Dirt
6. Radiohead – King of Limbs
5. Portugal. The Man – In the Mountain In the Cloud
A band with seven incredible studio albums and five EPs needs no introduction. Portugal. The Man has somehow managed to top their incredible albums like The Satanic Satanist and American Ghetto with their 2011 release of In the Mountain In the Cloud. Their first album on Atlantic Records has proved to be their best, maintaining that wonderful trademark PTM sound. Each song is dripping with synthed-out vocals, electronic instrumentals, incredible percussion, dizzying violins, layered keyboard lines, blues guitar, and complex bass lines. With incredible tracks like "Sleep Forever" and "Everything You See," there is not one bad song on the entire album.
4. Fleet Foxes – Helplessness Blues
One of the greatest folk albums of the year (and in recent years), Helplessness Bluesdelivers song after song of beauty, strength, and likability. Fleet Foxes, a six-piece folk band from Seattle, deliver a cheerier second full-length with a perfected sound. The title track is just as strong as album favorites "Sim Sala Bim," "Battery Kinzie" and the fantastic "The Shrine/An Argument." Occasionally wistful tracks are reminiscent of their previous release, while others are more upbeat and sunny. With great variation, fantastic instrumentation, and profound lyricism, Fleet Foxes have created a masterpiece in Helplessness Blues.
3. Bon Iver – Bon Iver
Bon Iver's self-titled album is easily the best work that Justin Vernon has put out to date. With modulated falsetto vocals, often in harmony, on top of synth and folk guitar, this album is minimalist while maximizing its potential. Many songs come off as soft and ambient while others are guitar-driven rhythmic folk rock. With upbeat and accessible songs like "Perth," "Towers" and "Calgary," the calmer songs of "Holocene" and "Lisbon, OH" are evenly balanced out. With a name coming from French's "bon hiver" meaning "good winter," this album is sure to bring chills with its beauty and depth.
2. St. Vincent – Strange Mercy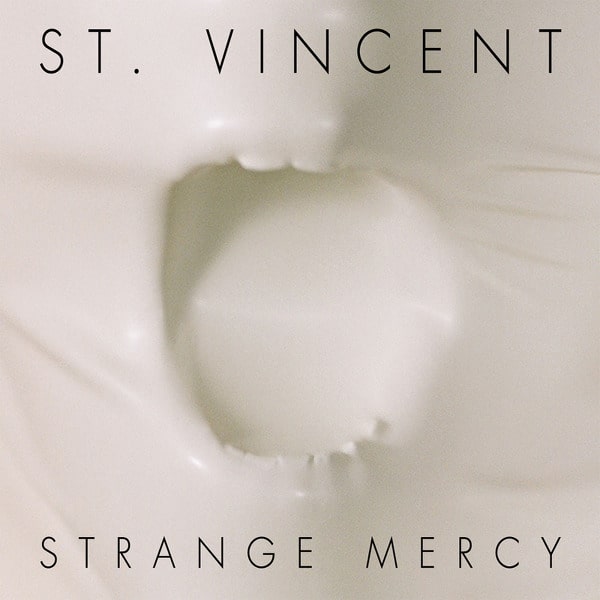 Strange Mercy is St. Vincent's third album, perfecting her mysterious sound. Utilizing heavy bass lines and squealing guitar, Annie Clark's light and melodic vocals create a beautiful juxtaposition. The guitar riffs on celestial backdrops mix with her fanciful vocals in a cacophonous contrast that somehow sounds exactly right. She may be small in stature, but she can certainly wail musically. Strange Mercy boasts singalong pop songs as well as introspective tracks that are profound in both lyrics and instrumentation. Overall, this album takes unexpected elements and combines them into a bewilderingly mesmerizing tour de force that is without a doubt one of the best albums of the year.
1. Larry and His Flask – All That We Know
Larry and His Flask is perhaps the most powerful and passionate band to ever put on a live performance, and every ounce of their energy is seamlessly transferred into their recordings on All That We Know. With their first full-length release after their punk-infused bluegrass makeover, they deliver song after song of fiery folk goodness. While some songs are energetic bluegrass breakdowns, others are darker folk rock alluding to a party-filled past. Infusing punk, rock and roll and bluegrass creates an album that you can play again and again. With not one song that falls flat, All That We Know is easily my favorite album of the year, making me ever excited for their 2012 release.
Biggest Surprise: Transit – Listen & Forgive
Biggest Disappointment: Set Your Goals – Burning At Both Ends
Best Live Show: Cut Copy and Washed Out at The Orange Peel
Most Anticipated 2012: Bad Books