2012 is over and we have a full year of music to show for it. What follows is a list of the best (and worst) of 2012 as voted by the Mind Equals Blown staff. Leave us your opinions at the bottom!
Code Orange Kids

Code Orange Kids' debut Love Is Love // Return To Dust, along with their split with Full of Hell, makes for two thundering entries into the realm of hardcore – making them a pretty easy decision for our Best New Artist award. In a year that saw a great handful of debuts, Code Orange Kids made hardcore fans giddy by following up a strong split with an even more ambitious full-length – reminding us that music and art continues to go hand in hand with one another even in the genre of hardcore. What's even crazier is that with such a strong record on the first try, perhaps we can bury all the talk about how young they are and just focus on the fact that they're doing something so off the beaten path with more confidence than their peers.
Issues

Ouch. Our mothers taught us that if we don't have anything nice to say we should say anything at all…
John Mayer

Let's be honest; the past couple of years have not been easy on John Mayer. After struggling with relationships with Jennifer Aniston and Jessica Simpson, being the pariah of a pair of magazine interviews, and going through emergency vocal surgery, the artist has had more downs than ups as of the beginning of this year. As a result of all of these unfortunate incidents, Mayer's music began to suffer as a result. His 2009 record Battle Studies was noticeably not up to par with his previous releases. Because of this, many thought Mayer was going to potentially plummet into obscurity. Then along came Born & Raised, his fifth studio LP. The record showcased what initially made the artist successful: thoughtful lyrics, simple melodies, and a hefty helping of heart to go along with it. It is with a happy heart that I type these words…John Mayer is back.
Xerxes 

Our Rookie of the Year MEBBIE was among the toughest decisions for the Mind Equals Blown staff to make. But when it comes to the young bands on the rise, Xerxes managed to come out on top with a beautifully aggressive LP in Our Home Is A Deathbed. Frantic and pleading through a balance of calculated melodies and see-sawing tempos, the emotion captured through this album is poetic and cathartic in a way that harkens thoughts of screamo bands of old. Whether you have a taste for tensive melodic passages or straight up blistering instrumentation, Xerxes is a band well-deserving of your attention.
Motion City Soundtrack – Go

It's always a little difficult to write these sorts of entries. On one hand, there's the positive in that a record was so anticipated that it's possible for it to qualify for this determination. On the other, well, just look at the title of the category. This album certainly had high points through great lyricism on tracks like "Happy Anniversary" and "Timelines," and several tracks are sure to be staples in the band's live show. However, the record as a whole just seemed to fall a little flat. While the band's Making Moves EP had fantastic songs, they might've made Go a better album. This isn't a bad record. It's a good record. The only problem is, when your back catalog includes Commit This To Memory and My Dinosaur Life, people are going to be expecting great records, and that's what makes Go our biggest disappointment.
Circa Survive/Geoff of Thursday – "The Lottery"

Unquestionably one of the fastest and most captivating songs on Violent Waves, "The Lottery" shines in every single aspect of song writing: instrumentation, vocals, structuring, and so forth. But the feature of Geoff Rickly of Thursday seals the deal. The exchange between Green and Rickly becomes one of the most memorable moments in all of Circa Survive's discography. The juxtaposition between Green's scratchy, coarse vocals and Rickly's velvety delivery strike a precious dynamic that you've always wanted in a Circa Survive guest feature. And to use a good friend's talents on an album supported only by family, fans, and companions is icing on the cake, subtly reaffirming the independent but vivacious spirit of Violent Waves.
Enter Shikari

While their past two albums were solid efforts, it wasn't until Enter Shikari's third full-length that they completely rounded their talents as a band. A Flash Flood Of Colour sees the British metal band perfect their electro-hardcore style. Not only is the instrumentation tighter, but the lyrics are more potent and accomplished than they've been in the past. The album – Enter Shikari's first to be distributed by American label Hopeless Records – reached number one on the England mainstream music charts, demonstrating the band's huge jump in both popularity and overall success. If that's not enough, multiple world tours that saw the band play in over a dozen countries across several continents. It's no doubt that Enter Shikari has made some of the biggest advancements of any band in music.
Ben Gibbard – Former Lives

Although Death Cab for Cutie's most recent release, Codes And Keys, was a disappointment to many diehard fans, frontman Ben Gibbard's 2012 solo release Former Lives, a collection of tracks recorded in the past ten years, exceeded all expectations. Where Codes And Keys lacked the heartfelt and heartbreaking lyrics associated with Gibbard's past work, Former Lives reminded us that Gibbard's best work still comes when he's lonely and drunk. Unlike the many pop inspired indie releases of 2012 such as Mumford and Sons' Billboard-topping Babel, Former Lives touched on much darker and genuine themes, with the frankness that only Gibbard's voice can provide. Gibbard proved that he's not writing songs to be used as the soundtrack of car commercials, but he's writing songs to help exorcise his, and in turn, our, demons, which is why Former Lives is easily the best indie album of the year.


Between The Buried And Me – The Parallax II: Future Sequence

Between The Buried And Me are doing it right. Their latest effort The Parallax II: Future Sequence was their best work do date. Tommy Rodgers and crew are completely on point, creating some of the best prog riffs and melodies in years. With an outstanding year of metal behind us, BTBAM was the most widely enjoyed by our staff. 

Frank Ocean – channel ORANGE 

Rap and hip-hop had some great albums in 2012. But we're delving into something a bit more subtle for this award. Frank Ocean's channel ORANGE is a more than deserving showcase of crystalized production and a prominent spotlight for the R&B-styling that we hear in various incarnations through this album. Whether it is the simple piano-tapper "Super Rich Kids" or the club-punching moments of "Pyramids", there's a fond sense of personality to this record that is heard both through the words and how Ocean's confident but aching range articulates them. Throw in some key appearances from Earl Sweatshirt and Andre 3000 and it is truly easy to say Frank Ocean has set himself a high bar for this being the first LP to his name.
Converge – All We Love We Leave Behind

There wasn't much fear in our eyes, or ears, that Converge wouldn't deliver on LP number eight. But All We Love We Leave Behind is arguably the best thing since… well that part is up for argument. The variety and mastery of songwriting on this album says a lot about where this band has come from even just in the years since Jane Doe. This is an album Converge has hinted at for some time now, but perhaps only fully realized with such poise and confidence as now. That is why we've decided to pick All We Love We Leave Behind as our hardcore album of the year.

Propoghandi – Failed States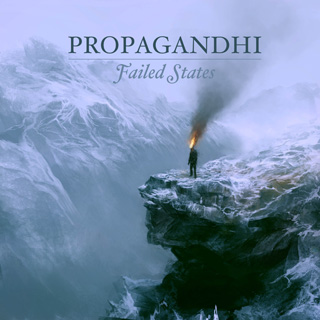 It's hard to form a coherent opinion on Propagandhi's 2012 release in blurb form. On one hand you could just say that Failed States is a fucking awesome shred fest. Period. But then again, you want to do justice to the record, You want to highlight each and everyone of those genius songwriting moments and how plain fucking amazing all of the songs on here are, how a band still can be this devoted and passionate about their beliefs and objectives after so many years and albums of fighting. You want to recognize their ability to evolve with each record, how this virtually isn't just punk anymore but a proggy trash-core celebration. And those riffs, holy shit. Well, I  already said too much. Shit rules.

fun. – Some Nights 

If you had any contact at all with any form of media this year, you know why this record is here. fun. simply dominated the radio this year, not to mention the thousands of plays found through commercial spots, movie soundtrack inclusions, and the Glee treatment. And, all of that for what isn't even close to the record's best song. It's always great to see one of your favorite bands referred to as one of "the biggest," and this is the album that earned fun. that designation from multiple media outlets. Still, that's only one of the reasons why this record is worthy of celebration. Full of fantastic lyricism, memorable hooks, and some of the best songwriting to hit the mainstream in a long time, Some Nights is proof that music of substance is still relevant in 2012.
Every Time I Die – "Revival Mode"
Revival Mode isn't your typical ETID song. With its piercing offbeat main riff – a groovy jackhammer of southern riff delicacy -, and the laid back but gritty feeling of soaring power chord verses underneath pleasantly raspy vocals, the song is a moody midtempo grower and a perfect break from the raging punk metal that dominates the furious Ex Lives. However, what's happening on screen is what truly makes this audiovisual experience. Set on a lonely dark highway, the story is based loosely on some of the songs key phrases, producing a crime drama with a surreal David Lynch vibe and nods to movies like Drive and Lost Highway, as well as to one of the most iconic episodes of drama show Breaking Bad.