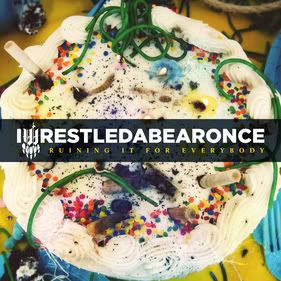 IWRESTLEDABEARONCE is a band you either love or really, really hate. From having a sex toy flung at them by a disgruntled member of Abigail Williams, to just being loathed/loved for having a female screamer, IWABO aren't exactly down with the metal crowd.
To further complicate things, IWABO recently played a prank (carried out in far better taste than the prank above, I might add) on the metal community a couple of weeks back, announcing that the Alabama-based grindcore band were hopping over to the black metal scene. More than a few metal heads went nuclear, as they bitched about getting played by a band they were used to bitching about. Their shenanigans have already been well-documented elsewhere, so it doesn't make sense to wade back in. However, back to my point: IWABO doesn't care what you think.
For all they care, their haters could go suck on a ***** (hint: rhymes with pillow). They don't give a damn. Evidence? I'm going to go out on a limb here and claim that anybody who's ever heard an IWABO song would have been immensely confused. That's exactly what causes the colossal divide between fans and haters. The band seems to be making a concerted effort to do whatever they want to do, which has worked out for them so far. Well, sort of.
While some praised the band for being unique and innovative, detractors blamed vocalist Krysta Cameron's "girl power" as the sole reason for the positive hype. Their debut full length, It's All Happening, could not have had a more apt title. From the screaming guitars to Cameron's shrieks and sometimes unpleasant wailing (more on that later), it was clear that whatever IWABO were doing had hit the fan.
Then came the time for the follow-up album, titled Ruining It For Everyone (another big middle finger to their haters), and the customary pre-album launch song releases. "Karate Nipples" was selected to be the first song to be showcased to the public/thrown to the wolves. So what's the verdict?
"Karate Nipples" kicks off with Cameron's easily recognizable, throat-shredding shrieks. Steven Bradley and John Ganey display their ever-present knack for bowel-shaking guitar riffs mixed with a healthy dose of electronic samples. The guitar work isn't groundbreaking and instead serves as the ladder propelling Cameron's singing to the forefront. Her singing on the dancey pre-chorus is stunning and will leave listeners wondering what IWRESTLEDABEARONCE would be as a pop band. Probably not that big, but hey I can't say I didn't think about it. Mike Montgomery switches beats effortlessly, as he flicks from the sparse dance beats to  pummeling his kit into oblivion. The electro-keyboard bits are interesting but unnecessary, serving more as a distraction to the sometimes lazy guitar playing.
Overall, the band displays a considerable amount of restraint during their "spazzcore" moments, with a catchy and upbeat disco-ish interlude right before the chorus and Cameron's much-improved singing. Sounding less like she's trying to force out a big one and exuding a poppier and more delicate vocal delivery, it seems that IWABO might actually exceed the expectations of being "that band with the chick who screams" and become the band everyone's listening to.